Official TMC Reviews > Tue, 4-17-12
Album Review: Oberhofer - Time Capsules II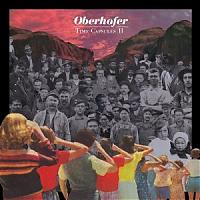 Author review
Musicianship

3.5
Vocals

4.0
Lyrics

4.0
Production

4.5
Originality

4.0
Reviewer Bias

4.0
Average 80%
There are no ratings to display
Oberhofer
Time Capsules II
One of the more annoying trends I've come across in recent years is the trend wherein bands will ape increasingly obscure music trends from years past and wrap it up in a bubble-wrap of detachment, marijuana smoke, and sunglasses with neon bows. Without passing too much judgement on the band or those that enjoy the works, one of the the most egregious offenders in my eyes would be Wavves. I don't like the fact that it's uncool to appear like you care. I don't like the fact that an inability to correctly connect an input cord into recording equipment can be described as a "stylistic choice". At the risk of sounding even more like the crotchety old man I'm becoming, I miss when even the shittiest bands gave off the aura of at least trying. Thankfully, Oberhofer's debut album
Time Capsules II
proves to be the silver lining on an era wallowing in aesthetic.
Where many of those bands that fall into the trappings that I mentioned above tend to feel the need to prevent themselves from caring,
Time Capsules II
proves that the 21-year-old Brad Oberhofer couldn't possibly have that problem even if he tried. While there may be a musical melange occurring over the entire running time, the emotional thread of losing that first, all-consuming love runs through the core of every song on the album. There's no snark, no bitchy remarks about an ex, just pure, unadulterated heartbreak coming from someone who hasn't been through the emotional wringer that comes with age. Usually, listening to the naivete of a twenty-something can result in some truly egregious lyrics, but Oberhofer stays sincere throughout the album and, most importantly, doesn't ever slide into any sort of whine. To be sure, there's a few eye-rolling moments, especially on the latter half of the album, but the few clunkers are part of the price to be paid when dealing with such an earnest lyricist. The simplicity is the key to the lyrical impact - if it were any more ornate, I feel the emotional core would be lost. Oberhofer walks a fine line between that more ornate style and the boneheaded obliviousness of some of his less talented peers, and mostly gets away with it. Thankfully, even when the lyrics become a bit too obvious, the music more than backs it up.
While
Time Capsules II
occasionally veers into the ditch once or twice with the "Modernizing an Old-Tymey Genre" trend, Oberhofer never really tries to have the surf-rock influences carry their sound. In the few instances where the group
does
succumb to the temptation ("Crusin' FDR" and "Gold"), the results tend to be forgettable and mildly grating. But, setting those two tracks aside, the band is able to temper its influences. There's a little bit of everything thrown in the pot here, ranging everywhere from swirling psychedelic strings and kettle drums to the near-omnipresent bells keening throughout the album. Also adding a bit of mystery to the mix is Brad Oberhofer's bizarre finger-picked guitar style that allows the melody to ring out against droning root notes while the drums come close to warranting assault charges. It's also of interest to note that there's nary a distortion pedal used to convey heaviness. On the album's brawniest choruses like "Landline" and "I Could Go", the guitars stay at precisely the same volume and tone, allowing the huge drums to punch up the energy in the songs. Against all odds, the band manages to keep this circus of indie rock, punk, surf rock and the kitchen sink in check and delivers a wildly catchy album.
I shouldn't like Oberhofer as much as I do. "Bedroom Pop" has become a filthy word in my estimation, usually saved for dingleberries who have as much talent as a MacBook will allow. Somehow, Oberhofer has managed to take this idea and run with it by staying incredibly personal while blowing away the minimalist approach that is normally associated with tag. Of course, ace producer Steve Lilywhite plays more than an essential role in the proceedings, giving loads of orchestral heft with the strings and the keys, but none of it would be worth a rat's ass without the incredibly strong melodies and heart present throughout. There's a vulnerability about Brad Oberhofer that isn't seen very often, and it pays off in spades. Where scads of his peers are trying to prove how little they actually care about everything they do, Oberhofer proves that he gives a shit with pounding energy, heart on his sleeve lyrics, and crazy orchestration. It's not a perfect album, but
Time Capsules II
is a great debut by a very promising talent with infinite potential.
Grade: B
Track Listing:
1. Heart
2. Landline
3. Away Frm U
4. I Could Go
5. Yr Face
6. oOoO
7. Crusin' FDR
8. Gold
9. Haus
10. Homebro
| | |
| --- | --- |
| | |
| | |
| --- | --- |
| Review Tools | Search this Review |
| | |
| | |
| --- | --- |
| Posting Rules | |