Official TMC Reviews > Tue, 3-16-10
Album Review: Local Natives - Gorilla Manor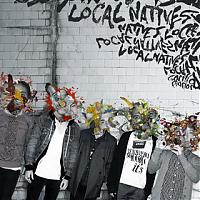 Author review
Musicianship

5.0
Vocals

5.0
Lyrics

5.0
Production

5.0
Originality

3.5
Average 94%
There are no ratings to display
Local Natives
Gorilla Manor
As music reviewers we face the unenviable task of trying to describe something that we will never be able to successfully communicate because, short of transcribing every single note onto sheet music, there is no way that we can ever give an accurate description of what we are listening to in a way that others can 'hear'. And so it is that we rely on tricks and associations in order to attempt to at least give people an idea of what something may sound like or how it makes us feel.
So if we take Local Natives' debut long player as an example, we might be tempted to describe the feeling or mood that overcomes us as we listen; I would say that it makes me feel as though the particularly cold winter which frosted the roads and dusted the countryside with a magical stillness and calm has finally passed and the days are getting longer, the weather brighter and spring is very much upon us. I might go on to elaborate with some kind of poetic whimsy and suggest that Local Natives are the children of nature and are playing a salutation to this new, happier season. However, this can lead into difficulties when writing for people on both sides of the equator as they will be leaving their summer and heading towards the darker environs of autumn and winter and so I might not be able to pass this analogy off to everyone.
As an alternative I might try to find similarities with other bands that people might be familiar with. In the following sentence I attempt to suggest that Local Natives are something like a cross between Animal Collective and Fleet Foxes:
"Local Natives owe a debt of gratitude to Fleet Foxes and Animal Collective, although they are a more upbeat version of the former and a less electronic version of the latter."
As you can see, I didn't merely point out who they were similar to, I also demonstrated
how
they differed from their influences. There are numerous ways to do this, but the pitfall here is that as soon as you compare something to someone's favourite band their expectations are instantly heightened to the point of frenzy and as such they will almost always be disappointed by what they hear because it is not their favourite band, in fact they will almost always think that they are a poor facsimile and hate the album for evermore regardless of its own charms and merits.
So, for fans of Fleet Foxes, you can expect some of the gorgeous harmonies from
Gorilla Manor
, but they don't always sound like Fleet Foxes. Equally, for Animal Collective fans, I am basing my comparisons on elements of
Gorilla Manor
's percussion and some of the group vocals. In fact they are probably more similar to The Dodos, but let's not get convoluted. And of course, there is the issue of a Talking Heads cover, and "Warning Sign" is not an obvious choice, so how do Talking Heads fit into Local Native's sound? The answer is that they don't; the band takes the bare bones of "Warning Sign" and makes it their very own, and unless you are a huge Talking Heads aficionado it is unlikely that you will be able to spot the cover among the original numbers.
All of which detracts from the simple fact that Local Natives have, in
Gorilla Manor,
written a dozen songs that are incredibly well put together; the opening quadruplet is instantly likable and the chorus to "Airplanes" and the middle eight freak out in "Sun Hands" are easily among the best musical moments of the year so far. The rest of the album, upon first and second listen, is enjoyable but it can seem a little too long and melt into one. However, given the time to breathe and find its way into your head the melodies, harmonies and riffs become lodged into your every waking moment and the album flies by so fast that you will readily press play over and over again. There is always something new to pick up on, and if you, like me, listen to music in headphones a lot, try listening to one ear at a time and you will hear even more tricks in the individual speakers that you may have missed in full stereo.
But the best thing to do would be to go out and buy this record, I can't recommend it enough and, as I have proven over the course of this brief discussion, I sure as Hell can't describe it to you.
Overall: A
| | |
| --- | --- |
| | |
#4 (Permalink)
Wed, 3-17-10, 7:26 AM
I'd relate them more to Dodos to Animal Collective as well if that's who we're strictly comparing on the whole, but I think they've got their own voice. I'd give this an A-/B+ and feel as if it could still grow on me even more. The first three tracks, "Who Knows Who Cares", and the Talking Heads cover are my favorite moments.

27CDB6E-AE6D-11cf-96B8-444553540000" codebase="http://fpdownload.macromedia.com/get/flashplayer/current/swflash.cab" id="Player_8f5d4324-5bb2-40d3-860b-8a58cd132735" WIDTH="250px" HEIGHT="250px">
#5 (Permalink)
Sat, 3-20-10, 1:55 AM
Good album. Didn't get any distinct similar artists coming to mind when listening. I do think the vocals share an uncanny similarity to Nate Ruess' on a few tracks however.
| | |
| --- | --- |
| Review Tools | Search this Review |
| | |
| | |
| --- | --- |
| Posting Rules | |