Official TMC Reviews > Sat, 9-1-07
Album Review: Jason Falkner - I'm OK, You're OK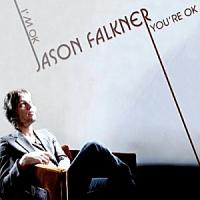 There are no ratings to display
Jason Falkner
I'm OK You're OK
This needs to be put into stores right now.
The brilliant poet and satirist Jonathan Swift once said, "When a true genius appears in the world, you may know him by this sign, that the dunces are all in confederacy against him." Truer words have rarely been spoken, and personally this is precisely the problem with Jason Falkner. He demands to release music on his own terms, regardless of how long it takes.
I'm Ok You're Ok
, after all, is his first solo full-length album of original material in 8 years. And as far as the "suits" are concerned, that is just plain bad business. He has never even known the courtesy and privilege known as Promotion. Record labels drop his musical goldmines, then run away to mountain caves. Now, it will rapidly become clear that I am a huge fan of Mr. Falkner. So of course, it'll get a great rating, and I'm going to gush a little, but it's the principle of the thing. This is a man who has paid his dues, has amassed an incredible body of work, and has recorded with EVERYONE in the music industry, yet can barely sell out a small venue. He has a fiercely loyal (however small) fan base, as well as an extensive collection of instruments and recording equipment, all of which he utilizes by himself to single-handedly construct incredibly elaborate and detailed songs with hooks flying out the wazoo. Principle states that this man deserves a break, so yeah - I'll gush a little, damn it!
[BEGIN RANT]
It has been said that Jason Falkner is the King of Powerpop. It has been said that the world is divided between those who LOVE Jason Falkner, and those who simply haven't heard his music yet. Considering Falkner is a pop musician, and he presents nothing "new" to the table, this is obviously a gross hyperbole. It is in my opinion, though, that no pop artist currently making music is as meticulate, obsessive, and thoroughly rewarding as Falkner. His first solo album,
Jason Falkner Presents Author Unknown
, was released in 1996 - and somehow to this day continues to improve with every listen. The very same thing can be said of his follow-up,
Can You Still Feel?
, which followed three years later. After that, a strange silence. In the world of pop music, 8 years is a long, long time. In 8 years, The Beatles had their first hit, exploded globally in popularity, grew as artists and musicians, eternally revolutionized the definition of pop music, and subsequently parted ways after having exhausted all possible artistic possibilities together. So what the hell has Jason Falkner been up to?
For starters, he's been helping out on the latest albums from Air, Beck, Ben Lee, Lisa Loeb, Aimee Mann, Brendan Benson, and Travis, just to name a few. He also released a collection of old demos, a gathering of cover songs recorded before his albums, an instrumental album containing lullaby covers of Beatles songs, and the excellent EP
Bliss Descending
, the only newly-recorded original solo music released in those 8 years. He also formed a tribute to the 80's, TV Eyes; which is essentially a reunion of Jellyfish, the band Jason Falkner was a member of, before the band split and he formed The Grays with Jon Brion (the mastermind behind many of the best film soundtracks of the past decade) in the early 90's. The first single from TV Eyes, "She's A Study", was released in 2003 to mild attention. From there, in true Falkner fashion, it took almost 4 years for the full-length album to be released late last year. It only found release in Japan, and is still patiently waiting the light of day everywhere else in the world. Now, when
Bliss Descending
was released three years ago, we were told it was a quick gift before his new album would be released that fall; apparently, he changed his mind. The fully recorded and fantastic album (available to all Pirates worldwide under the title of
Eloquence
), was completely scrapped and instead he recorded the collection we have now.
Things kick off unassumingly enough. "This Time" is classic Jason. Containing his staple penchant for irresistible, up-beat melodies, he cries out: "This time the lines are blurred/ But I don't mind/ Because we won't go away." No matter how much apathy Jason Falkner will experience from the world, he will always continue to give it his all.
"NYC" stomps onto the speakers next, where he reminisces what the first years are like for someone new to the Big Apple. Deep into the song begins the return to his signature trick: piling hook after hook after hook after hook into a song to the point where you aren't sure which hook the song is supposed to be remembered by.
Things really kick off on "The Knew", one of the most insanely catchy songs of his career. Every time, when the chorus drops, my jaw drops right through the fucking floor at the infuriatingly simple and brilliantly memorable chord progressions.
"Stephanie Tells Me" shows Falkner at his absolute best; he's able to write snappy love songs with very personal and sentimental lyrics, without once letting things become saccharine or twee in the slightest. These are just painstakingly written hooks, verses and choruses and in-betweens so interwoven they all sound like the song's "highlight moment".
In "Hurricane" we start to hear a slight influence from the 80's synths of TV Eyes, in what results a gradually building crescendo into an absolute whirlwind of melody. While "Hurricane" may be the album's least impressive moment, he storms right back with "Anondah". However, compared with all the "New Pornographers" and "OK Gos" of this world, a "least impressive Falkner moment" is still (in my humble opinion) head and shoulders above the rest.
"Komplicated Man" jumps back into the realm of pop euphoria, followed by the synth-tinged "Runaway" and organ-fueled "Say It's True", two of the most beautiful and personal songs under the name Falkner.
The swirling "Contact" bounces things around again before the album winds down with two of its best tracks. "This Life of Mine" manages to utilize synthesized strings without being cheesy, and Jason's impassioned yet restrained vocal performance is perhaps his best ever. "I Don't Mind" closes things with a gorgeously explosive bow, the undulating melody slowly unraveling into exquisite pop perfection.
There is no doubt in my mind that this is the best album of Jason Falkner's career, under any of the bands and names he has been affiliated with. By carefully taking the necessary time to hit each note just right, he has managed to record a guitar pop album much more refined and carefully assembled than the hundreds of Challengers and Make Believes released every month. Unfortunately, the same fate as TV Eyes' self-titled debut has befallen this new album, this painfully awaited pop masterpiece, this gift to all his passionately adoring fans; it has only been available in Japan since April. So now is the time to get the talk around town, and to let the big bad "suits" know: Jason Falkner has a new album, it's called
I'm OK You're OK
, it completely rules, and it needs to be put into stores RIGHT NOW. I would be more than willing to pay the price to import this baby online, but it's the principle of the thing! If he's treated the same as usual, I can tell you what'll happen - no singles will be released, no music videos made, no promotion of any kind - budget will only allow for an intimate solo tour, Pitchforkmedia will give it a 6.1, and no one will hear it. Come on, record labels - I beseech you - this guy needs a home for this album, and he needs it to be marketed accordingly. It is a crime against nature, humanity and modern society to let Jason Falkner roam this Earth without an outlet for his output.
[/END RANT]
Overall:
Grade A
Tracklisting:
1. This Time
2. NYC
3. The Knew
4. Stephanie Tells Me
5. Hurricane
6. Anondah
7. Komplicated Man
8. Runaway
9. Say It's True
10. Contact
11. This Life of Mine
12. I Don't Mind
http://www.jasonfalkner.net
http://www.myspace.com/jasonfalkner
| | |
| --- | --- |
| | |
#2 (Permalink)
Wed, 9-5-07, 4:11 PM
This sounds really good! He has a lot of work under his belt with other artists. I've never heard of him, so I'll take a listen soon and let you know how I feel. Thanks for the review and the video. Excellent Mike.
#3 (Permalink)
Thu, 9-6-07, 3:39 AM
Will be seeking this record out next time I hit the indie stores. You haven't lead me astray yet Mike. That Piano Magic album was atmospheric and whimsical.
#4 (Permalink)
Mon, 9-10-07, 10:27 PM
Fine fine review. This is a fresh artist to me, so I'm going to find out what else this man is all about. I'm convinced.
Junior Member
Join Date: Oct 07
Posts: 1
#5 (Permalink)
Fri, 10-12-07, 12:56 PM
I am one of them "luke warm" Jason Falkner fans (like there is such a thing!)! I have been into him ever since many years ago, I was looking into the Jellyfish bin at a local record shop and lo and behold, there was a Jason Falkner cd called Author Unknown. Not even being sure that he was an ex-Jellyfisher, I took a gamble that he was and that that association alone guaranteed me a great cd. I was right on both counts! Avid fan ever since, I concur with Mike that Jason Falkner has not been given his due. I paid the $36.00 (Amazon.com) for the Japanese import only because I cannot wait knowing that Jason has a new cd out. I have never not ordered one of his cd's once I became aware that it was there to be had! He in turn, has never disappointed. Those of you who say you're gonna give him a listen...please don't let the import price of this new cd keep you from buying it. He is, as Mike already stated, one of the true pop genius' in history. Record sales do not a genius make because if they did, Jason's cd's would all be multi-platinum. If you are just discovering Jason, well, consider yourselves on the inside at the start of what I hope will be a storied career in pop music for this veteran!
| | |
| --- | --- |
| Review Tools | Search this Review |
| | |
| | |
| --- | --- |
| Posting Rules | |