Official TMC Reviews > Mon, 10-27-08
Album Review: Tom Gabel - Heart Burns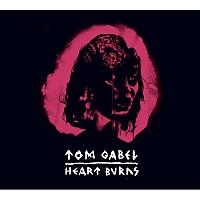 Author review
Musicianship

3.5
Vocals

4.5
Lyrics

4.5
Production

4.0
Originality

4.0
Reviewer Bias

5.0
Average 85%
There are no ratings to display
Tom Gabel
Heart Burns
Solo material is a tricky proposition. You've got to balance the desire to put out the material you want without pissing off the rest of the band. Usually, solo projects can only work when the soloist is the brains behind the band (Tim Kasher). Otherwise you may end up ripping yourself off without what made the original product successful (Serj Tankian). In Tom Gabel of Against Me!'s case, the solo product appears to fall into both categories. He's been the core of Against Me! since its inception, but the solidifying of the band circa
As the Eternal Cowboy
has provided increasing amounts of punch that is as much a part of the music as the words. Luckily,
Heart Burns
doesn't come off as a vanity project, but as an album that
needed
to be released.
Gabel's no stranger to political rants. Much of the early Against Me! was filled with venomous rants damning government, but many of the pieces were shortsighted. The world through the eyes of a nineteen year old is often one of black and white, and Against Me! was no different. However, as the man's grown and seen more of the world around him, the line has begun to blur. The world isn't as definitive anymore, and
Heart Burns
is the chronicle of one man's uncertainty in America during this election year.
The first thing that you're going to notice about
Heart Burns
is that it simultaneously does and doesn't sound like an Against Me! album. Gabel's inimitable voice is at the forefront here, and it's as powerful as it has ever been. He still sounds like he gargles with gravel and washes that down with a carton of smokes. You'll also notice the prominent return of acoustic guitars, not seen on last year's
New Wave
. What WILL be new, however, is the presence of programmed drumming and a slight…new wave…tinge on a few of the songs, most notably on lead track "Random Hearts". This is incredibly jarring at first, but by the end of that first track, you probably won't notice the fact that Gabel's pushing on electronica at times. The cores of these songs are still based around a solid base melody, the bells and whistles are the only things that are different.
(Editorial note: Man, if you thought the backlash over
New Wave
was intense, wait until you hear the bitching and moaning over this one.)
The overall effect of
Heart Burns
is minimalist (see the guitar & voice only rant of "Cowards Sing at Night"), and it works to great effect. Gabel's words and ideas have always been more potent when given room to breathe ("How Low", "8 Full Hours of Sleep", "Beginning in an Ending"), and this album proves that in spades.
However wildly different the programmed drums make the songs feel, it's Gabel's words that take center stage. Some may have argued that Gabel took a step away from the traditional Against Me! style of writing on
New Wave
, but
Heart Burns
brings things full circle. Each song feels like part of the whole again, each one giving the listener a glimpse of Gabel's mind. While the songs are uniformly strong in the lyrics, the crown jewel here is without a doubt "Anna is a Fucking Stool Pigeon" (named on the credits without profanity, this song will always have the word "Fucking" in the title, as that's how it was debuted). While I don't want to make direct comparisons, the song does remind me of Bob Dylan. Not so much in the content or delivery, but in the story-telling style of the lyrics. Gabel's never ventured into third person stories before, but he succeeds here. "Anna…" tells the story of a young anarchist convicted of conspiracy against the government through means of deception and possible entrapment. It's descriptive without being overly wordy, and truly does stimulate thought regarding whether or not it's ever ok to violate civil rights for the greater good.
This is much closer to the Against Me! of old, but it still shows the fact that Gabel is pushing himself outside of the expectations of others. Songs like "Amputations" and "100 Years of War" could definitely fit in on an AM! Album with a few minor changes, stuff like "Conceptual Paths" is too weird sonically to be placed anywhere but here. By painting a picture of what he sees in everyday life, whether that picture consists of matter personal or political, he shows us that life is not all that it could be. He closes the album by telling us "Don't / Miss Your Chance to See It While It's All / Happening", imploring the listener to take life and make it into what he/she wants. He's quite literally referring to the impending election, but I feel that it can be applied to everything mentioned up to that point.
So go see life while it's happening. And listen to this EP.
Grade:
A-
www.myspace.com/tomgabelmusic
www.purevolume.com/tomgabel
Tracklisting:
1. Random Hearts
2. Conceptual Paths
3. Cowards Sing at Night
4. Amputations
5. Anna is a (Fucking) Stool Pigeon
6. Harsh Realms
7. 100 Years of War
| | |
| --- | --- |
| | |
#2 (Permalink)
Tue, 10-28-08, 8:24 AM
The live versions of these were really good from the solo show you sent me, so I'm pumped to hear the full production now. It seems to be getting semi-mixed reviews from fans, but you really don't know where they're coming from and what parts of the AM! discography they like and if they prefer the musical power or the power behind Tom's lyrics and vocals. I appreciate all of it, but I'm always up for any stripped or solo project territories. Good write-up Jeremy. Select Best Buys have Heart Burns this week for $9.99 if anyone is looking for it.
#3 (Permalink)
Tue, 10-28-08, 9:52 AM
He's great at getting his message across on a personal level and on the world view or political level. I have a lot of respect for that because sometimes it's hard to walk that line.
| | |
| --- | --- |
| Review Tools | Search this Review |
| | |
| | |
| --- | --- |
| Posting Rules | |