Official TMC Reviews > Sat, 2-21-09
Album Review: Hurray For the Riff Raff - It Don't Mean I Don't Love You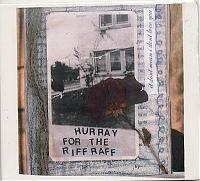 Author review
Musicianship

4.5
Vocals

4.0
Lyrics

4.0
Production

3.0
Originality

4.0
Reviewer Bias

3.5
Average 77%
There are no ratings to display
Hurray For the Riff Raff
It Don't Mean I Don't Love You
Not Quite Barn-Burning Music
On their Myspace, the country quartet Hurray for the Riff Raff (aside: let's pause for a moment and admire what a kick-ass name that is... ok) advertise themselves as preferring to play their shows in "barns." Now, this somewhat strange distinction already pigeonholes HFTRR into one of two sub-sections of country: the barn-burning, square-dancing, loud and fast country, or the slow dance style country, meant for those who think Kenny Chesney is the devil (because he is...). Those of you wanting the former might be advised to stop reading--Hurray for the Riff Raff are steeped in half-time waltzes featuring sparse arrangements of singing saw, banjo and violin.
Lo-fi opener "Meet Me in the Morning" sets the tune perfectly--clangy, somewhat out of tune piano burbling out a disjointed waltz. For the next 40 or so minutes, the band lilts you through a calming outlaw persona, amidst road-weary troubadour-isms and weary love songs. Songwriter Alynda Lee's poetic voice is fairly advanced, but the main draw is her beautiful croon. It's a cross between Fiona Apple and Zooey Deschanel, smooth as warm black coffee and rarely piercing (try "Fly Away," a song whose melody waves in like breeze). Her banjo plays the role of foundation, with other Raffers (as they're wont to be called) filling in the space with country atmospherics (accordion and singing saw punctuate some of the better bits).
The highlights of the cd come at a predictable moment, if you catch it. "Junebug Waltz," "Here it Comes," and "Baby Blue" are all situated in the back half of the record, at perfect times when the listener is completely warmed to the idea that Hurray are merely in your ears to make you pensive. "Here It Comes" somehow reminds me of Iron & Wine, as it veers into a sort of anthemic trend in its chorus. The point is, most of the songs are great, it just takes about half an album to get into the vibe; if you listen to the album twice back-to-back, you'll notice that all the songs are damn good. The only moderately bad parts come when Hurray get too into Tom Waits area ("Dance With Death" and "Skin & Bones").
The main drawback from
IDMIDLY
is that it never speeds up (maybe save for the chorus of "Here it Comes"). It's not really a drawback though; the identity and slow as molasses nature of Hurray for the Riff Raff make sure that they are perfect for a certain emotion or period of time. It's southern music for when you're on your porch with lemonade (yes, I realize most of you don't have this--but try listening to "Bricks" outside, it will make you want to go to sleep). If Riff Raff were to get any louder/faster, they might come off as a bad version of the Low Anthem.
As they are now, Hurray For the Riff Raff are a startlingly good bit of country-folk, with advanced, sometimes Springsteen-esque tales of wanting to get away. Fans of the Everybodyfields, Avett Brothers, or Low Anthem take note--your new favorite band with a singing saw might be Hurray For the Riff Raff.
Grade: B+
Tracklist:
1. Meet Me in the Morning
2. Daniella
3. Fly Away
4. Skin & Bones
5. Junebug Waltz
6. Here it Comes
7. Dance With Death
8. Bricks
9. Baby Blue
10. Amelia's Song
| | |
| --- | --- |
| | |
| | |
| --- | --- |
| Review Tools | Search this Review |
| | |
| | |
| --- | --- |
| Posting Rules | |