Official TMC Reviews > Sat, 1-2-10
Album Review: The Mighty Mighty Bosstones - Pin Points and Gin Joints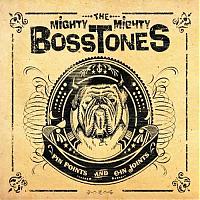 Author review
Musicianship

4.0
Vocals

4.0
Lyrics

4.0
Production

4.5
Originality

4.0
Reviewer Bias

5.0
Average 85%
There are no ratings to display
The Mighty Mighty Bosstones
Pin Points and Gin Joints
I Have A Theory.
That theory is regarding a theoretical fourth wave of ska/ska-related music that I feel is upon us. It's been percolating for some time now, but only now am I confident in said theory. Criteria are as follows:
1) The building of a local/regional following in the nascent days of the third wave of ska circa 1991-1994.
2) An explosion in popularity due to one monster single followed by a few lesser singles during the third heyday of ska, circa 1995-1998.
3) A massive decline in the popularity of the band during The Modern Dark Ages, thanks in no small part to the prevalence of nu-metal and Backstreet Boys, as well as a sub-par album or two.
4) A resurgence in popularity/quality in the waning years of the 2000s due to more quality albums, as well as perspective on the whole mid-nineties third wave as well as the influx of great modern ska bands (Streetlight Manifesto, RX Bandits).
With Pin Points and Gin Joints, the Mighty Mighty Bosstones have proven the rule. Along with Reel Big Fish and especially Less Than Jake, we now have three bands that epitomize and prove the fourth wave is upon us. True, it's far from likely that we'll see a resurgence to rival that of 1995-1997, but the number of bands putting out quality work is as high as it's ever been. For all intents and purposes,
Pin Points and Gin Joints
is the modern day equivalent of the inimitable
Let's Face It
. Without missing a beat, the band has washed away any bad taste left over from the odd-n-sods
Medium Rare
and the less-than-stellar
A Jackknife to a Swan
. Lead single "Graffiti Worth Reading" immediately takes me back to the summer of 1998 and also perfectly completes the task of setting the pace. Throughout the first half of the album, we're given a quick rundown of the last 15 years of Bosstonia: a lazy, dirty ska guitar, ebullient bass-lines that don't rest for a minute, and the gang vocals/gang horns we've all come to know and love. This is not to say that the boys have reverted back to the ska-core sound that permeated everything up to and including
Don't Know How To Party
. It mostly follows the slight pop-punk breed of ska that the band has been peddling since
Let's Face It.
We also see a nod more towards the band's reggae roots in the middle of the album with "It's Your Life" and "Not To Me On That Night", both of which almost bring the album to a screeching halt. It's not that they're bad songs, they just don't fit in with the general flow of the album. The same cannot be said, however, for late-album clunker "The Death Valley Vipers". I can respect the guys for going out on a limb and try something new (check that tin-pan alley piano), but the song fails completely. Luckily, these lower points on the album are surrounded by songs that work incredibly well.
Perhaps the most surprising element of the album is Dicky Barrett taking the reigns as a lyrical elder-statesman. He's never really shied away from tackling subjects that have traditionally been untouched by modern ska musicians (Racism, homophobia...and possibly awaiting the outcome of an HIV blood test...), but on
Pin Points and Gin Joints
, he's pushed himself to a new level. Rather than take the normal route of singing about "Us v. Them" or more drinking laments, Barrett's turned his focus on himself. This is never an easy move to make, especially with a history of not really doing so, but Barrett's been able to walk that fine line between self-examination and self-pitying. This tightrope act is seen at its best in album highlights "The Route That I Took" and "A Pretty Sad Excuse". Barrett's able to generate sympathy for a life that quite possibly has been wasted while never directly asking the listener to weep for him. He paints a picture of himself that doesn't shy away from the negative aspects of his personality, but he also makes sure to show that he wouldn't change a thing.
It is no overstatement to say that a new Mighty Mighty Bosstones album is nothing short of a miracle. All signs were pointing to the Bosstones never reuniting; if they did, it was almost certainly to go on a pathetic reunion tour where they rest on their laurels and play all of your favorites. With that in mind, it's also slightly puzzling that they were able to make an album that is not only good, but easily in the top echelon of their catalog. Sure, this isn't your older brother's Bosstones from the early nineties. They might veer a little too far into the Dropkick Murphys' territory of the blue-collar-story-of-survival-in-Southie on a few songs, but the occasional missteps are more than made up for by the songs' unwavering ability to get the blood moving. There's a lot of skankable stuff on here, but it's also got some parts that I've found myself chewing over even when I'm not listening to the album. If you've ever liked anything by the Bosstones, even if it was only "The Impression That I Get", please do yourself a favor and check out
Pin Points and Gin Joints
. You just might be surprised.
Grade: B+

www.bosstonesmusic.com
www.myspace.com/themightmightybosstones
Track listing:
1. Graffiti Worth Reading
2. Nah Nah Nah Nah Nah
3. The Route That I Took
4. You Left Right
5. Too Many Stars
6. Your Life
7. I Wrote It
8. Not To Me On That Night
9. Wasted Summers
10. Sister Mary
11. It Will Be
12. The Death Valley Vipers
13. The Bricklayer's Story
14. A Pretty Sad Excuse
| | |
| --- | --- |
| | |
| | |
| --- | --- |
| Review Tools | Search this Review |
| | |
| | |
| --- | --- |
| Posting Rules | |