April 9th, 2014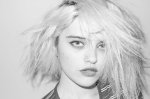 The University of Iowa brings an attempt to spur volunteering each spring in the form of the 10,000 Hours show. This specific show allows anyone with ten hours of documented volunteer work to get a free pass to the show, and these arenít some warmed over has-beens or never wills. The 10,000 Hours show puts great effort into booking things that will make the time worthwhile - Ben Folds headlined the inaugural show, and acts like Jackís Mannequin and Girl Talk have played in the years since. The idea has spread out to other universities, and if you get on the horse now, you can get your ticket to catch this yearís show featuring
Sky
...
April 5th, 2014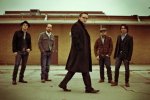 Live Review: Mission Creek Festival 2014 - Day 4
Jason Isbell, !!!, David Zollo & The Body Electric, Jason T. Lewis
By the time Fridayís absolutely stacked and almost entirely sold out plate of shows rolled around, those of us that have gotten three nights of shows under our belt are starting to fade. Or at least I am. These things happen when you get old. The festival cares not about age, however - Friday is when the heavy-hitters come out.
The Head & the Heart, Jason Isbell, Kishi Bashi,
&
!!!
all sold out this year, and the crowds came out early for the biggest night of...
April 4th, 2014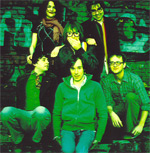 Live Review: Mission Creek Festival 2014 - Day 3
of Montreal, Dessa, Ark Life, Toki Wright & Big Cats, Dylan Sires & Neighbors
Weíre only three days into Mission Creek 2014, and already I have to eat crow. I recently reviewed
Dylan Sires & Neighbors
two albums from last year, and while I felt the band was talented, I just didnít connect as strongly to the albums as I had hoped. The groupís opening set on Thursday proved that yet again, I most likely have had my head up my ass. Everything that I had found fault with on record was rectified live. The band was able to deliver the...
April 3rd, 2014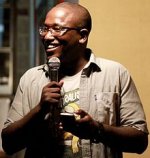 Live Review: Mission Creek Festival 2014, Day 2
Hannibal Burress, Earth, CJ Sullivan, Taser Island, Curt Oren
Recent years have seen another golden age for comedy come about, and thankfully, the top tier acts have spread past the major markets to infiltrate our little corner of the world. Recent years have seen titans like Louis C.K. and Patton Oswalt visit the area, while Mission Creek itself has pulled such heavy hitters as Tig Notaro as well as a special one-time-only show featuring David Cross, H. Jon Benjamin, and Jon Glaser. This year, the festival was able to get Chicagoans
CJ Sullivan
and...
April 2nd, 2014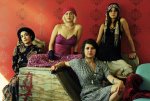 Live Review: Mission Creek Festival 2014, Day 1
Warpaint, Alex Body, Koen Holtkamp, Idpyramid
Each year for the past several years, the spring in Iowa City comes upon us in a variety of unpredictable ways. The weather can range from blizzards to the traditional airy springtime temperatures, hopes of a good basketball team may be raised or dashed to bits on various brackets, and we can be any number of weeks away from summer. One thing that has remained constant for quite some time now is the onset of Mission Creek week. The first week of April finds Iowa Cityís patrons of the arts gathered around the...
March 31st, 2014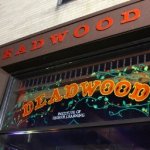 Mission Creek Artist(s) to Watch #2: Angry Hour W/ Viet Cong Man Son, Centaur Noir, Los Voltage, Spray Paint (ATX), and Teen Daad
The lineup for Mission Creek varies pretty wildly each year. Each year weíll get some more raucous shows like
White Lung
and
Weekend
, and every now and then the festival will dip its toes into metal like they did with
Pallbearer
and
Lair of the Minotaur
. While thereís no centerpiece Ďhardí show this year, the festival always makes sure to feature all things gnarly and local with the annual
Angry Hour
. Located at the infamous Deadwood Tavernís cavernous...
March 30th, 2014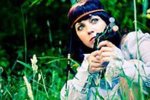 Mission Creek Artist to Watch #1: Alexis Stevens
Each year, Mission Creek will book bands that we know will sell like gangbusters regardless of what any of us want or like -
The Head and the Heart
has been sold out for ages,
Jason Isbell
is getting close, and several more of the big names will fill up just fine. I like to take some time to spotlight some of the artists that some you may not have had the opportunity to investigate yet. The best shows of the past few Mission Creeks for me have been some that I have been least expecting, so get out early and check out as much as you can.
My...
March 24th, 2014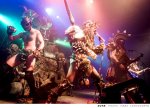 It is with a heavy heart that I find myself in the position where I need to eulogize David Brockie, a.k.a. Oderus Urungus of GWAR. Brockie passed away Sunday, March 23rd at his home in Richmond, VA. No cause of death has yet been established.
Throughout GWAR's thirty years of existence, Brockie was the only member to have performed in every incarnation of the band. As lead singer Oderus Urungus, Brockie found himself as the crass, outspoken frontman,...
March 24th, 2014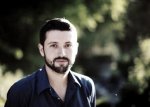 You may know him for his time in Bon Iver, but S. Carey is no slouch in his own right. He's releasing his new album
Range of Light
on April 1st and promptly kicking off his tour in my very own Iowa City as part of the annual Mission Creek Festival. To tide you over for the next week or so, the man's released the first video for the album, and you can find it as well as his tour dates below:
...
March 11th, 2014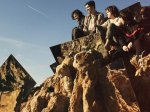 Live Review: Delorean, Until the Ribbon Breaks, Giant Questionmark
The Mill, Iowa City, IA, 2.15.14
Delorean was scheduled to play Iowa City this past year for our friends at SCOPE. However, during a stop in Mexico, the band was kidnapped and held hostage. Thankfully, the ordeal was resolved without any major incident, and the band was returned safely. Such an occurrence would more than justify the cancellation of a tour, but Delorean took some time off to recoup and rescheduled the tour. The rescheduling did little to dampen spirits for the enthusiastic crowd that made the trek through the snow to...
March 11th, 2014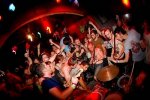 The Menzingers broke through with
On the Impossible Past
, and they're coming back soon with
Rented World
. To support the album, the band will hit the road this summer. Check out the band and their wild show live this summer at one of the following dates:
Tour Dates
May 29 Providence, RI - The Met
May 30 New York, NY - Webster Hall
May 31 Philadelphia, PA - Union Transfer
June 01 Washington DC - Rock and Roll Hotel
June 02 Rochester, NY - The Bugjar
June 03 Toronto ON - Opera House
June 04 Cleveland, OH - Grog Shop
June 05 Pittsburgh, PA...